April Update 1.19 : Explore Boston's expansion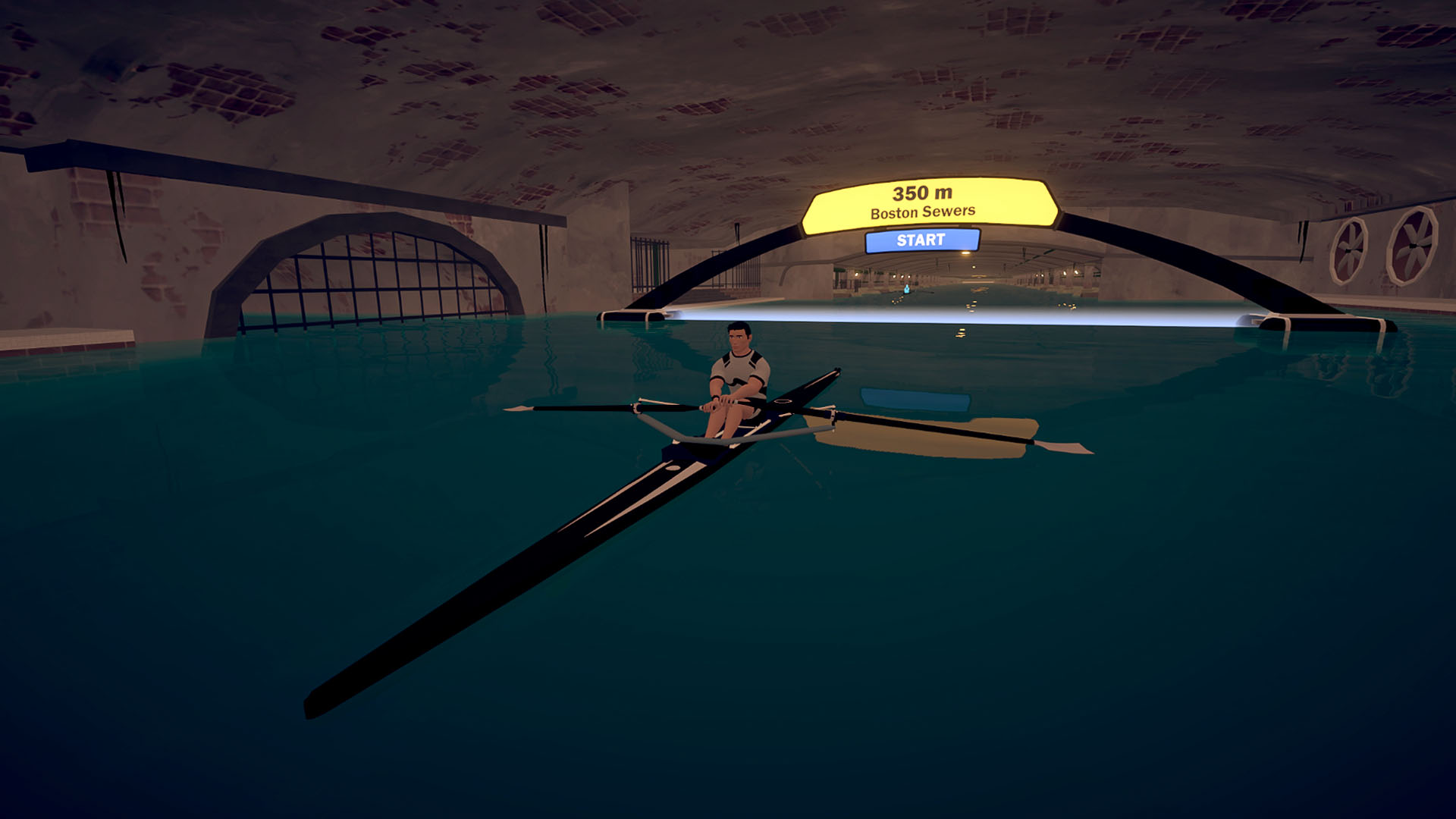 We just got back from London where we had a good time attending the PerformX Live fitness event and meeting promising partners. Despite the crazy British "wrong side" traffic, we made it back in one piece and got to create a Boston map expansion and a new Lake Bled route for the April update. Because you asked us to, we added 8 new achievements, increased the number of monthly challenges and made the Training Mode's interval arrow move. As usual, various other improvements and fixes are incorporated in this month's update.
New
Boston map expansion
Discover Boston's hidden (and fictional) side with the Boston sewers map expansion! The expansion adds new shortcuts to the existing Boston map, introducing smaller routes and a new segment for quick sessions. Moreover, a new route has been added to the existing map:
Below Boston: 5.4 km
Sewer Shortcut: 4.4 km
Yacht Club Circuit: 5.8 km
The Boston sewer expansion and the 3 new routes are available to everyone including free trial users and subscribed rowers.
Extra route on Lake Bled
A new, shorter route called Church Circuit has been added to Lake Bled. The 1.3 km loop comes in handy when wanting to row a quick session on Lake Bled.
8 extra achievements
Unlock 8 more achievements during your workouts and boost your motivation:
Virtual 2k (bronze): row 2 km in a single session
Building up endurance (bronze): row 5 km in a single session
Leading the pack (silver): rank on 10 different leaderboards
Apprentice of the Charles (silver): complete a lap on 3 courses of Boston
Beholding Bled (silver): complete a lap on 3 courses of Bled
You must like EXR (gold): reach level 30
Monthly madness (gold): complete a monthly challenge
They call me the badge collector (platinum): complete 10 monthly challenges
Already qualified for an achievement? They register as completed automatically if you've already passed the requirements. For example, if you had already completed a lap on 3 courses of Boston for Apprentice of the Charles before the April update. To unlock the achievement's rewards, complete another lap.
Unlocked "Bled, sweat and tears" and "From the Charles to the Muddy River" in the past? These achievements will stay unlocked although new courses were added.
Route completion icon
Some achievements require you to complete some or even all routes of a map. To easily check on which routes you've already rowed, a new green icon has been added to the route's overview in the top-right corner.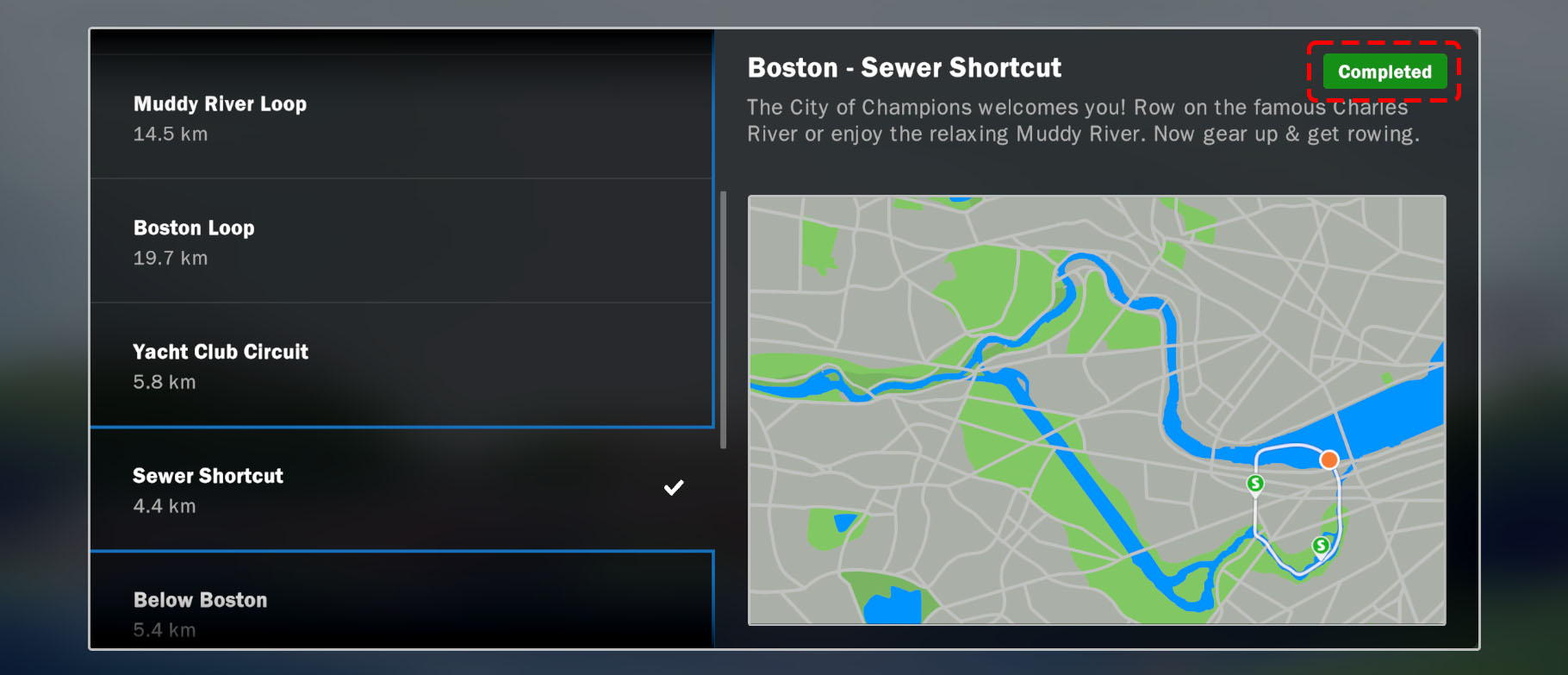 Improved
In Training Mode, the training timeline arrow now moves along the timeline, indicating how far you've come in your current interval.
The registration screen for new users has been tweaked to better differentiate it from the login screen.
The width of the nearby rowers list has been decreased. It is now less distracting and leaves more space for virtual environments.
The graphics for Apple TV 4K 3rd generation have been improved.
If you're inactive during a workout, the options open/close automatically.
In the Training Editor, you can now type in all interval lengths via the interface.
Fixed
Large shadow squares have been removed on various devices
Removed a bug that sometimes caused a black screen when switching to the cinematic camera perspective
Fixed a sorting issue with the rowers' name cards when they overlapped, resulting in a wrong reading order
Fixed various achievements displaying wrong colors when unlocking them during training sessions
Removed an overlay of the level up effect and the achievement unlocked notification.
Freshly unlocked non-rowing-related achievements now pop up again in the menu.
Fixed various small issues when rowing verified workouts on Concept2 rowers.
Fixed route not being drawn correctly on the map overview.
Stil-Fit One Flow now registers as a supported rower again.
3 April challenges to keep you on your… butt
This month onwards, you'll have 3 monthly challenges with different difficulties to help you become a stronger athlete. This means more badges, more X-Coins, and more motivation! So, let's get started and see how many badges you can earn this month!

Row a total of 7 hours to earn 200 X-Coins to unlock the easy time challenge. Beat the determination challenge by training with EXR on at least 10 days to gain 300 X-Coins. Row a total of 14 hours to get 500 X-Coins and prove to yourself how resilient you really are.
What do you think about this April update? Share your thoughts with us using our contact form.
Sign up for the EXR newsletter to stay up to date on future updates, events and news.