Connect third-party apps
Connect EXR to and sync it with various third-party apps. Currently, EXR supports connections with Strava and Concept2 Logbook and TrainingPeaks.
How to sync a third-party app
It is important that you connect to your third-party application before your rowing session, as data will not be transferred when connected afterward.
Go to your EXR web profile and click on third-party apps. Here you have an overview of all apps to which you can connect.
To link a new application, click on the respective connect button and log into your account of the platform you are trying to connect to.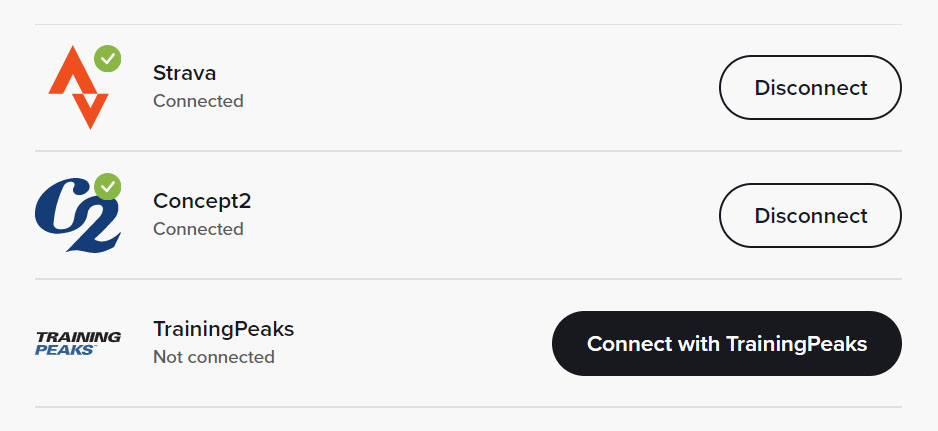 When linked successfully, a green checkmark appears next to the name of the application.
Every time you save a session on EXR, it will automatically be uploaded to your linked account(s).
Disconnecting third-party apps
There are 2 options for disconnecting your apps:
Disconnect a single session: When saving a workout in the app, uncheck the respective box.
Disconnect permanently: Open your EXR web profile and select Third-party apps. Next, choose the respective app and click on the disconnect button.
Export data to third-party apps
After your training, your sessions are saved as FIT files. You can find your performance data via your EXR web profile by selecting past sessions.
We plan on adding other files in the future. If we have news on this, we'll let you know via our social media and the newsletter.
Data not syncing?
It is possible that the sync to your third-party app is simply delayed which means that your data will sync after a few hours.
Often disconnecting and re-connecting your third-party apps solves sync issues.
No sync even after waiting? Contact us directly via the contact form and we'll check the status of your sync in our database.