Connect my Concept2 rower
EXR is supported on all Concept2 rowing machines:
PM5 which is connected via Bluetooth. A cable connection can only be established on Windows devices.
PM4 and PM3 which are connected via a cable. In this case, EXR is only supported on Windows devices.
Before establishing a connection...
Install the latest firmware update on your PM.
Do not program your PM. This can lead to faulty data and crashes. We are working on ranked pieces to upload to your Concept2 logbook.
How to connect via Bluetooth:
Enable your PM5's Bluetooth pairing by pressing Menu and then selecting Connect. It is important that nothing else is connected to your PM5. To remove all current connections and reboot your rowing machine, keep the Menu button pushed in.
Open EXR's connection screen and click on Connect rower. Select your rower from the list of available machines and wait until you're connected.
Select "Finish setup" to start your workout.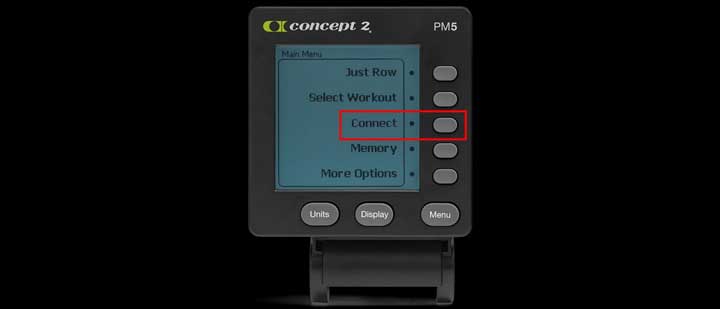 How to connect using a cable:
Please note: A cable connection is only supported for Windows.
Open EXR and plug in the cable that is connected to your PM.
Click on the Connect rower icon. Select your rower from the list and wait until you're connected.
Select Finish setup to start your workout.
In case this does not work, follow these steps:
While in EXR's Paired Devices menu, unplug the USB cable and wait a few seconds before plugging it back in.
If still no connection is made, we recommend starting the app Concept2 Utility on your device. When the program is loaded, check if your rowing machine is listed under Connected Devices in the top right corner of the Concept2 Utility app.
If your rowing machine is not listed in the Concept2 Utility app, plug and unplug the USB cable.
Once the rowing machine is listed as connected, close the Concept2 Utility app. Then, open EXR again and the established connection should be indicated in green.
Still having problems connecting? Contact us directly via the contact form and do not forget to mention which device and rowing machine you are using.